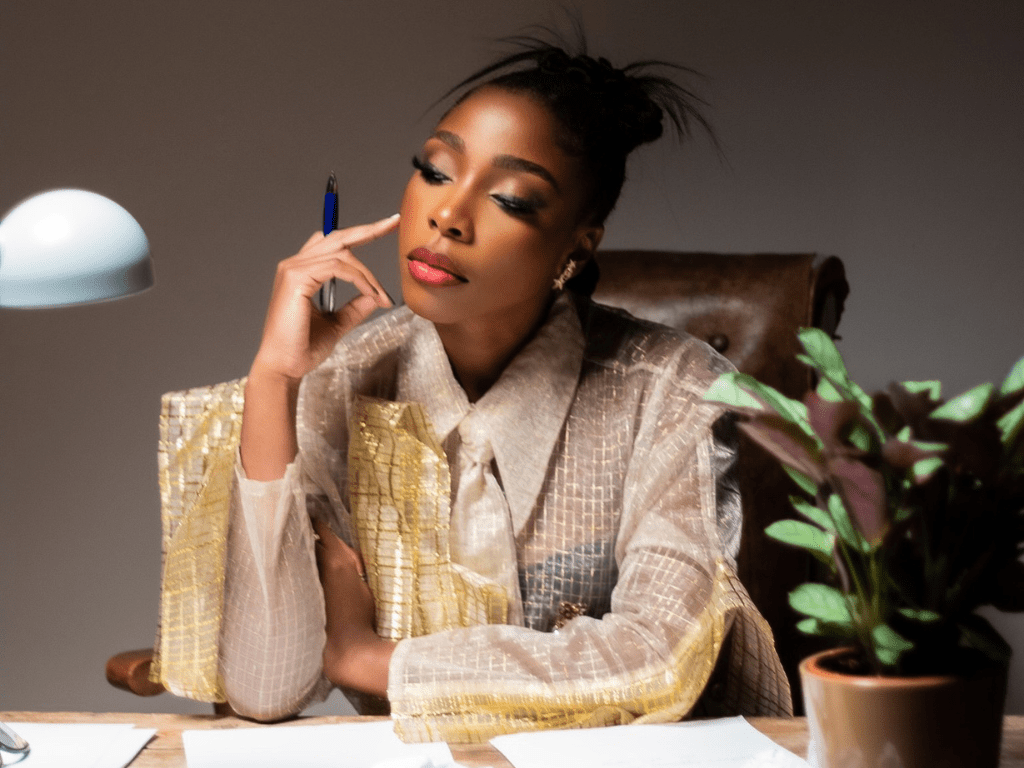 Fresh off electrifying performances at London's iconic stadiums, New York's Citi Field, and prestigious festivals like BergenFest and AfroNation, Nissi is back in the spotlight with her latest release, "Unboxed." In this interview, we dive deep into her creative journey, exploring the essence of her newest single, "Nobody," a collaborative masterpiece with afrobeats powerhouse Fireboy DML.
Join us as Nissi opens up about her artistic evolution and the heartfelt stories behind her music.
Pinch Of Sol: Your artistic identity melds a unique blend of music, engineering, product design, and visual arts. How do these seemingly disparate disciplines interact and influence the creative process behind your songs, especially in your new single, "Nobody"?
Nissi: Each discipline I've immersed myself in profoundly influences my creative process. As an engineer, I approach music with a structural and analytical mind, ensuring each component of a track is meticulously crafted. My experience in product design gives me an understanding of how various elements come together to form a cohesive whole, similar to piecing together a song. The visual arts background allows me to visualize the mood, color, and texture I want each song to convey; it's like painting a picture with sounds. Bringing all these disciplines together in "Nobody", I was able to craft a track that's not just sonically pleasing, but also deeply layered and multidimensional. It reflects the complexities and beauty of breaking free and embracing all parts of oneself, a theme rooted in my diverse background.
Pinch Of Sol: The title of your sophomore EP, Unboxed, suggests breaking free from constraints. Can you share a moment or experience during its creation that epitomized this theme?
Nissi: 'Unboxed' encapsulates the essence of breaking boundaries and embracing authenticity. A poignant moment during its creation was when I felt an overwhelming sense of confinement, reminding me of the societal boxes and expectations. I channeled that emotion, blending diverse musical styles to represent the myriad of emotions and facets of one's identity. This project symbolizes the act of defying and breaking out from these constraints and urges everyone to discover and love their true selves.
Pinch Of Sol: What can fans expect from the upcoming record in terms of narrative and sound?
Nissi: Fans can anticipate a rich tapestry of diverse sounds and styles, where each track offers a unique emotional experience. The narrative revolves around self-discovery, self-acceptance, and defying societal norms. It's a testament to individuality, encouraging listeners to find their rhythm, embrace their authenticity, and proudly showcase it to the world.
Pinch Of Sol: How was your collaboration with Fireboy DML on "Nobody"? How did the two of you find a common ground, and what was the most unexpected or exciting outcome from this union?
Nissi: Fireboy and I both value authenticity. That's where we connected. Our shared beliefs fueled "Nobody". The best part? Crafting a song that encourages others to embrace their truth.
Pinch Of Sol: As a steadfast advocate for women's rights and empowerment, how do you plan to weave these important narratives into your upcoming EP, and what message do you hope it sends to your fans, especially African women?
Nissi: The EP is my message to fans to stand strong in who they are. Every song is a call to action: embrace every part of yourself and don't let others box you in.
Pinch Of Sol: Your digital footprint is rapidly expanding, with global resonances from your performances and collaborations with industry giants. As you look forward, how do you envision evolving and pushing boundaries both within and outside the domain?
Nissi: As we speak, I'm diving headfirst into multiple ventures. I'm the co-founder of an upcoming electric car company, which is incredibly exciting. Art has always been a passion, and I'm working on fresh art pieces that I can't wait to share. I'm also exploring the world of fashion, as I believe it's another avenue where I can express myself. And of course, there's more music on the horizon. To answer your question, I see myself continuously shattering expectations and pushing the envelope in every domain I touch. It's all about breaking boundaries unapologetically, and I'm fully committed to that journey.
Pinch Of Sol: Listening to the rich and diverse sounds in Unboxed, who were some of the artists or specific songs that inspired you during the creation process of this EP?
Nissi: I think I'm the creation of this project I honed in on myself more so than anything else. We just freely created to find the sounds that resonated and then went for it.
Pinch Of Sol: Can you take us on the journey of creating the song "Heavy"? From the initial concept and inspiration to the writing and production process?
Nissi: Heavy was made during a session in london. I was with a bunch of my friends in the studio and Telz laid out this simple drum pattern which got me instantly freestyling the chorus "heavy heavy heavy heavy heavy". I was inspired by friendship and the support that comes with it. I wanted to celebrate my people.
Pinch Of Sol: The track "Thunder" features the talented Teni Apata. How did this collaboration come to be, and what unique energy did he bring to the table that shaped the final outcome of the song?
Nissi: Teni and I formed a good relationship and at some point I made the song and had a feeling she would be great on it. Sent it to her to listen and during one of her trips to london we got together and recorded it. I love her.
Pinch Of Sol: Can you share a specific moment or track in the EP where listeners can feel a raw and unfiltered expression of your emotions, and what inspired that candid outpour?
Nissi: Honestly all the songs are expressions of mine in some way or another but I guess the one that is most self reflective will likely be gloves.
Pinch Of Sol: How do you anticipate your fans reacting to the introspective nature of "Overthinking"? What conversations are you hoping to spark with the themes explored in this track?
Nissi: I want all of us overthinkers to connect on this song and talk about the pros and cons of this nature and potentially have a dialogue about the different ways people deal with it as well as how it's okay to just let things go sometimes because nothing is really as it seems.
Pinch Of Sol: With your background in visual arts, can we expect any visually striking music videos or art pieces accompanying the tracks from Unboxed? If so, what visual stories are you aiming to tell?
Nissi: Most definitely. Right now there are stunning visuals for overthinking, higher, nobody. We have done visualisers and there will be more visuals coming as well as exhibitions of my art.
Pinch Of Sol: Post Unboxed, where do you see your music heading? Are there particular sounds, themes, or genres you are eager to explore in your future projects?
Nissi: Post unboxed I want to build a community, perform on all stages and continue to evolve as an artist with all of my fans.