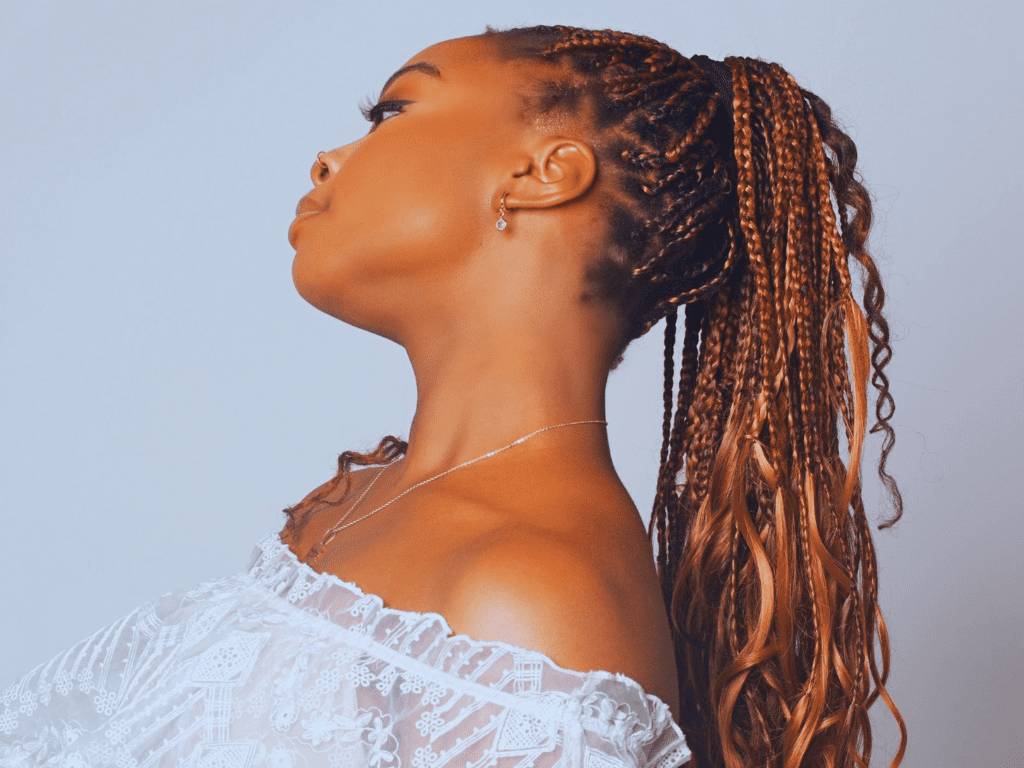 A British powerhouse—Miriam Nyarko 's talent has captivated audiences from the silver screen of Tribeca to the lyrical landscapes praised by industry giants like Notion Magazine and Earmilk. Through four tracks in her debut EP, THE JOURNEY, Miriam bares her soul, sharing stories of faith, battles against life's tempests, and the eventual solace found in God. It's not merely a collection of songs; it's a deeply personal revelation, akin to Jeremiah 2:11 set to music, where life's tumultuous waves guide you into the comforting embrace of the divine.
From Tribeca's silver screen to acclaim from Notion Magazine, Miriam's talent shines. Discover her remarkable story through music.
Pinch Of Sol: From your beginnings at age four to now, how do you believe your voice and style have evolved? How is this growth reflected in THE JOURNEY?
Miriam Nyarko: My voice has evolved in so many ways over the past few years. Inevitably it has matured, but I've also finally found my sound. For ages, I felt like I was singing what I had to sing. But now I'm able to fuse my African, Bajan and R&B roots, making them one polished sound — known as Miriam Nyarko. I believe my voice has turned from strictly gospel sounding to modern and contemporary soul. This is reflected in my EP 'THE JOURNEY' by the R&B runs, Afro B production, and gospel lyrics.
Pinch Of Sol: The new EP is a candid reflection of your identity. Could you tell us more about how your faith and personal experiences shaped its creation?
Miriam Nyarko: My faith has been a big part of my life for as long as I can remember. I grew up in Church, but I didn't actually find my faith for myself until I was around 16. I knew I believed in God but it wasn't until going through hardships that I was able to stand on that faith firmly. Because it's such a big part of my life, it just had to be a big part of my first EP. I know this doesn't resonate with everybody, but I feel like we are going into a generation where most believe in something – whether they feel it or not. Whether it is themselves, or it's Jesus. And I want this EP to exemplify what it looks like to have the faith I have and see if it inspires anybody else that feels lost whether they're a believer or not.
Pinch Of Sol: How did you navigate the emotional journey of translating intimate life moments into lyrics and melodies? Which experiences did you choose to unveil, and why?
Miriam Nyarko: I don't think it's something that I thought about too much. I very much write my music based on my life. Whether it's through something I've seen, somebody else's experiences that I've been there for or simply my own. This whole EP is based on my experiences, and when I sat down to write it, I didn't have a plan. Which I think is where a creation blossoms… When it's not put in a box. One of my biggest testimonies about this EP is that it didn't start out as one. Which just shows that we can make our plans, but I believe God determines our steps. I wrote 'Built On You' first, which is funnily enough, the track that ends the EP. So it's like I saw an image for the destination and had to – in turn – write the journey towards that.
Pinch Of Sol: In "Mine (Oh Father)," you touch on dealing with personal loss. Could you share more about the healing and transformative power of music in your grieving process and how it shaped this track?
Miriam Nyarko: 'Mine (Oh Father)' is the second song on my EP and speaks about quite a deep time in my life. When my father passed away in 2021 besides, my faith in God, the people around me and my career, music was one of the most prominent things to get me through grief. I would lay awake, listening to Maverick city and Hillsong Worship. And I would just lament through song. So when I created this track, with all of this in mind, I wanted to make a masterpiece that showcased the restoration that comes from loss. I definitely believe if I had a song like this post trauma I would've been able to dance through the hurt.
Pinch Of Sol: As 'THE JOURNEY' takes your listeners through a rollercoaster of your past experiences and present reflections, what anticipations and hopes can they hold for the future chapters you're yet to reveal?
Miriam Nyarko: This EP highlights my past and my present. But I know that there's so much destined for my future. So I cannot wait to write about things happening now and things that haven't even happened yet. Listeners should anticipate a deeper dive in to R&B and exploration with not only gospel based songs, but also songs about my relationships, mental health and more!
Pinch Of Sol: What emotions or realizations do you aim to evoke in your audience with your EP? How do you see your stories resonating with, and potentially influencing, listeners' own life journeys?
Miriam Nyarko: I aim to evoke emotions, like hope, redemption, and satisfaction, when people listen to my music. Every one of us will experience loss in some respect, whether you are old or young. I happened to be quite young when I first experienced loss, and so I want this to resonate with a lot of youthful listeners. To show them that whilst it may not be expected, it is definitely not impossible to overcome. I want to influence listeners to stand up and take charge. I want people to hear, through this EP – that I was able to find fulfillment in my faith. Which helps me know that whatever challenges come my way I cannot fall when I am standing on such a firm foundation. Whether you are a believer, or not, I want people to experience freedom through my music.
Pinch Of Sol: Moving forward, are there specific artists or producers you dream of collaborating with?
Miriam Nyarko: There are so many artists and producers I would love to collaborate with. The top artists on my list would be CalledOut Music, Tori Kelly, Stormzy, Annatoria, and Madison Ryann Ward. Of course, I know this takes time and I will continue to develop my sound and trust that God will align our paths in some way.