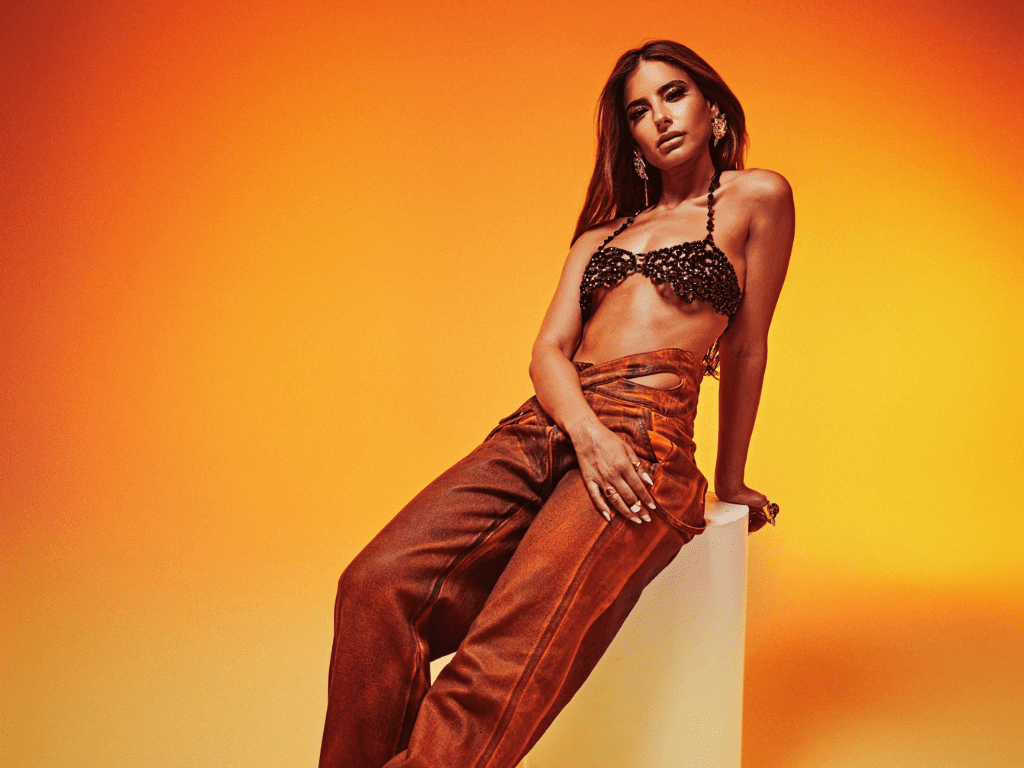 In the world of music, certain tracks possess a magnetic allure that transcends the boundaries of genre and culture. They become sonic journeys, inviting us to embark on a rhythmic adventure that's impossible to resist. DJ Lara Fraser 's latest creation, "Taxi Man," is precisely one of those tracks—a captivating Afrobeat-infused masterpiece that takes listeners on a spellbinding voyage.
In this exclusive interview, we delve into the world of DJ Lara Fraser, the creative genius behind "Taxi Man." We explore her inspirations, her artistic journey, and the magic that goes into crafting such an infectious and emotionally charged track.
Pinch Of Sol: Congratulations on the release of 'Taxi Man'. What was it like collaborating with powerhouses like Vybz Kartel, Camidoh, and Miss LaFamilia on this track, and how did this unique collaboration come into fruition?
DJ Lara Fraser: Thank you so much! I feel very blessed by the process of this song and all the people that contributed. We actually worked backwards on this one. I was working with a team in Atlanta called Pink Lane Project, run by Taffari (who was instrumental in the whole process). We were going back and forth with different artists for my new project and he sent me the Vybz verse that was recorded straight from a cell phone. As soon as I heard it, I had to make a song around it. We cleaned the verse up, hit my manager Jay Spio up to start brainstorming on the vision and we actually created 4-5 different versions with different artists before the magic of today's version of Taxi Man .
Working with Vybz Kartel, Camidoh, and Miss LaFamilia was fun! Obviously Vybz wasn't in the room but everyone got along, and saw the vision. Couldn't have asked for a better collaboration.
Pinch Of Sol: The fusion of dancehall and afrobeats on 'Taxi Man' feels both seamless and innovative. How would you describe the process of merging these genres, especially with such diverse talents on board?
DJ Lara Fraser: It was completely natural. The fusion was led by the incredibly talented artists on the track. Camidoh and Streetbeatz brought the afrobeats flavour whilst Vybz Kartel and Miss LaFamilia brought the dancehall tones. It originally leaned into afrobeats all the way through til Toddla T touched the Vybz verse with his magic (on a flight midair btw) adding a whole new layer to it.
Pinch Of Sol: You've had quite a journey transitioning from luxury PR to DJing and now releasing hit singles. How have your past experiences shaped your current approach to music?
DJ Lara Fraser: Gosh it really has been a journey. I actually moved from PR to radio which was the start of the transition into music. Starting on Hoxton Radio, to today where I co-host a weekly radio show on Resonance FM 104.4 with my best friend and actress Laura Pradelska. We both have different music tastes which keeps my music radar diverse and allows me to appreciate genres I might not pick out myself. Radio really has shown me the ropes in music and also the tech side of things which is a huge component in DJing, production and the music world today.
But to answer your question, working in Radio and DJing has hugely influenced my approach to music. The crux of both is understanding your audience. I love to see how different genres, different BPM's and keys make people feel, how it makes them move. I think this is why I'm drawn to such a global sound. My sets around the world are always curated with the culture of the crowd and country at the forefront. When I'm making a track, I am also thinking about the people it speaks to.
Pinch Of Sol: With 'Around The World With The Lallas' on Resonance FM, you've ventured into radio as well. How do you balance these multiple hats, and what's the synergy like between live DJing and hosting a radio show?
DJ Lara Fraser: I love holding many different hats, it gives me scope and the ability to lean into whichever aspect the stars are aligning for. Any opportunity I have to learn a new skill within the creative industry I see as something that can elevate me in all sectors rather than something new to juggle.
The show is mainly a talk show peppered with our favourite music. It's a staple in my week I look forward to. Hosting it with my best friend makes it feel like a good chat rather than work, a bit of therapy and an update of culture and music that has caught our eye throughout the week. It keeps us both consistently on the pulse. DJing on the other hand means my library is up to date with new music, remixes and edits so the two seamlessly integrate.
Pinch Of Sol: You've shared stages and platforms with many talents. Are there any other artists or DJs you're looking forward to collaborating with in the future?
DJ Lara Fraser: There are soooo many. I'm constantly in awe different DJ's styles and things that make them unique. Martin Garrix would be the dream, Fred Again would be a big vibe, I'm also still a big Calvin Harris fan.
Pinch Of Sol: Electronic and dancehall are both dynamic genres that constantly evolve. As someone who stands at this crossroads, what's your grand vision for the future fusion of electronic and dancehall music?
DJ Lara Fraser: Someone actually sent me a crazy mashup of a Vybz vocal on a tech house beat the other day. The fusions and creativity out there let me know that there is no limit. Although genres do have to hold some integral components to keep their essence, I feel the more creative the better.